I awoke with a start—not knowing that Feast Table dream was about to change everything
---
One summer night, I had a dream about a backyard table. With abundance set atop rugged wood. With chairs waiting to be filled, and a feast that was about to begin. All we had to do as believers, was pull out a chair… sit down… and join in.
Fast forward years down the story road to today, and I get to share answers to questions I had once upon a time. While walking through a tough season, the  "What in the world comes next, God?" was whispered first. Then, verse mapping notebooks I'd filled suddenly connected, and became a chorus of words. And soon, prayers were penned to a page and stories knitted a journey:
… 2 Bible studies,
… 6 weeks each,
… 12 stories —the 12 I'd choose if it was all I had to tell you about this amazing Savior Jesus.
---
What kept me going was this: What if the end goal actually happened?
---
I want you to know I fought for these studies. Hard. I doubted the words I'd penned. I feared the vulnerability they might bring. I prayed over the stories we'd tell and wondered if I was doing the right thing more than once. I thought of you while I was awake at 3am, writing, editing, elbows-deep in research books and Bibles scattered across the bed…
What kept me going was this:
What if the end goal actually happened? 
What if we dug our heels in the Word of God.
Loved it and lived it. Breathed it, understood it, learned and owned our faith—to the point we became ardent researchers, history and truth-seekers, beautifully redeemed and unapologetic disciples of Jesus Christ?
---
This has been the journey of my life, and I'm heart-filled-to-gushing-over-the-rims joyful to get to share it with you in 2018. And *bonus*… we have re-imagined COVER ART for #TheVerseMappingSeries journeys:
VERSE MAPPING LUKE: Gathering the Goodness of God's Word
---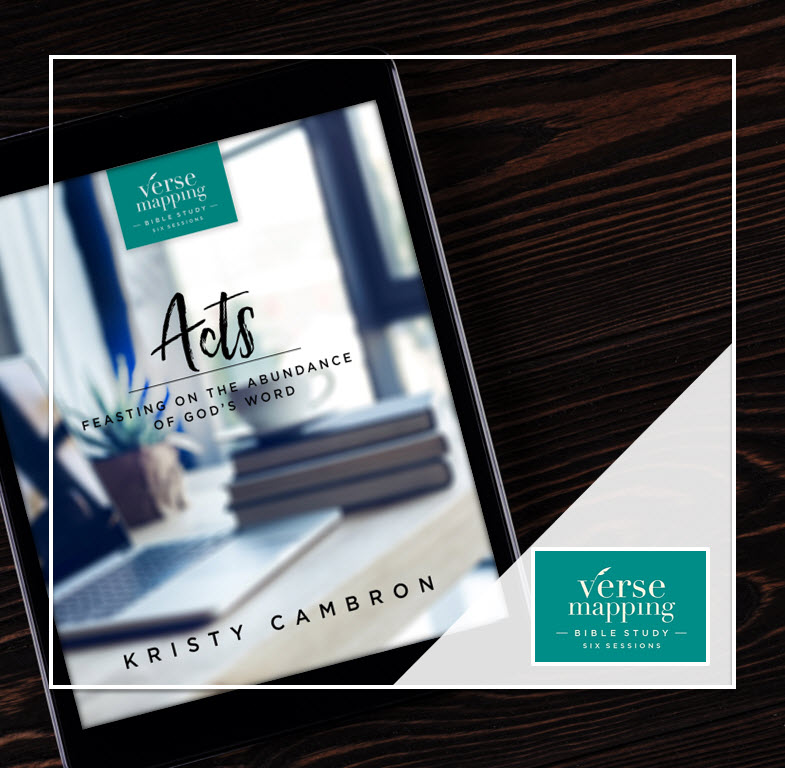 VERSE MAPPING ACTS: Feasting on the Abundance of God's Word
---
I'll have more to share in the weeks ahead, but until our May 8, 2018 release day—you can get a FREE Verse Mapping preview here: VERSE MAPPING 101: Steps to Study the Bible Like Never Before
---
Until release day, I'm thinking about good, good things.
I'm reliving that feast table dream from years ago. I'm imagining the candles are lit on that rugged table. The bowls are filled. The place-settings are laid out. And your chair is waiting along with mine. I close my eyes and can't wait until April… because for the first time, those chairs will be filled.
With JOY in the Word,
---
TWEETABLES: 
Cover Art Reveal for #TheVerseMappingSeries -- in the JOURNAL today
Click To Tweet
Coming April, 2018: #TheVerseMappingSeries -- The feast is about to begin!
Click To Tweet